Scotland's public bodies continue to improve reporting of action on climate change mitigation and adaptation, but analysis shows the need for more to be done to drive change within organisations and in collaboration with others.
Sustainable Scotland Network (SSN) has published its Public Bodies Climate Change Duties (PBCCD) Analysis Report for 2021/22. The analysis report shares findings of the 2021/22 PBCCD reports, submitted by Scotland's 'major player' public bodies.
This is the seventh analysis report published by the network since mandatory reporting began. This year saw 100% compliance with all 188 'major player' public bodies submitting a report.

The report presents key findings on public sector emissions, targets, alignment of resources and action to address adaptation and resilience. The report also highlights a range of projects and spotlights demonstrating the range of climate action taking place across the public sector.
On public sector emissions, the analysis shows a slight upturn from last year, despite the long-term trend being a reduction of 30.2% since 2015/16. The year-on-year upturn is attributed to public bodies expanding the range of emission sources reported, and a slight 'bounce-back' from the relaxation of pandemic safety measures.
Emission saving from projects was also down on previous years, due to a range of disruptions in project delivery, and could also indicate the challenge of moving on from the 'quick win' projects reported in previous years.
Key Findings:
2,666,618 tCO2e total emissions reported over Scopes 1, 2 and 3 sources.
3.6% increase in Scope 1 and 2 emissions since 2020/21, with these emissions being 30.2% lower than in 2015/16 when mandatory reporting began.
38,592 tCO2e saved due to carbon reduction projects and 362 GWh renewable energy generated.
Natural gas for heating continues to be the largest source of public sector emissions (30%), and these emissions have remained virtually static from last year.
70% of public bodies reported one or more emission reduction targets, and 23 bodies have set targets for zero direct emissions.
66% of bodies submitted some form of adaptation risk assessment and 67% report taking some form of action on adaptation. The analysis indicates an opportunity for more adaptation training.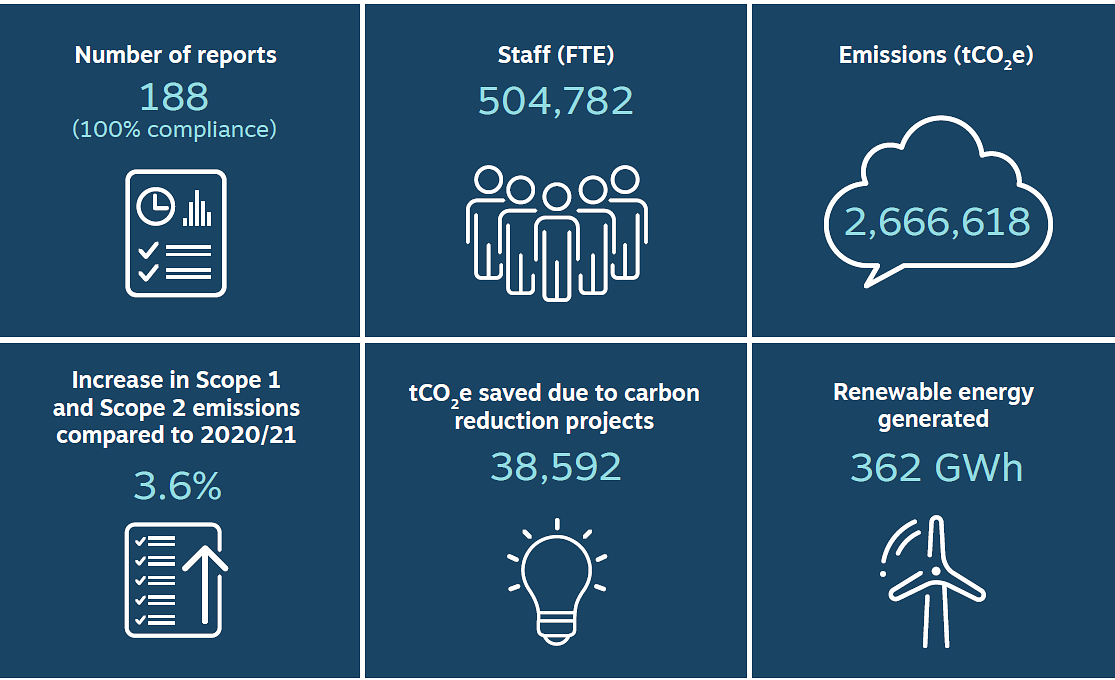 SSN's analysis report shows the complexity of tracking mitigation and adaptation plans, projects and impacts from the Scottish public sector. Many factors within and outside the control of public bodies are influencing delivery, and public bodies are also expanding the range of emission sources and activities reported year-on-year. However, the analysis also shows the need for more radical and transformative delivery on climate action across the public sector.
Reflecting on this year's analysis report, John Wincott, Chair of SSN, stated:
"This year's SSN analysis of public sector climate change reports provides a thorough breakdown of emissions and actions across all 188 major players in the public sector. The report also showcases examples of climate action from across the public sector. The range of data, activity and impacts demonstrates an impressive amount of activity from public bodies. However, the overall assessment shows the need for much more impactful, transformational climate action and leadership if we are to achieve the climate change ambitions we are committed to in Scotland.
While the public sector faces many challenges, not least growing demands and reducing resources, we must continue to work together, and in much more effective partnerships, to make progress in tackling climate change and securing the multiple benefits of public sector climate action.
SSN is committed to improving collaboration and the sharing of best practice across the public sector, and we will be continuing to work with our members to help develop the expertise necessary to accelerate public sector climate action."
The SSN Conference Working Together to Deliver' taking place online on 24th May focuses on taking the SSN capacity building activities to a new level in order to accelerate public sector climate action, and to secure the wider social, economic and environmental benefits that such action can secure.
---